Photo Lab Picture Editor: face effects, art frames
100
Picture Editor – Turn Your Selfies into Photo Art
Are you an artist at heart? Do you want to do something creative with your selfies and photos? If yes, then this picture editor can help you realize your dreams. Photo Lab Picture Editor: Face Effects, Art Frames is a fun app which lets you apply face effects on your selfies and turn them into photo art. It enables you to give your photos an artistic makeover and make them look like paintings. You have a large library of effects, filters, and frames at your disposal in this app. It is up to you to make use of them in a creative manner and come up with customized combos for your photos. You can also share your creations with others and get inspiration from their work.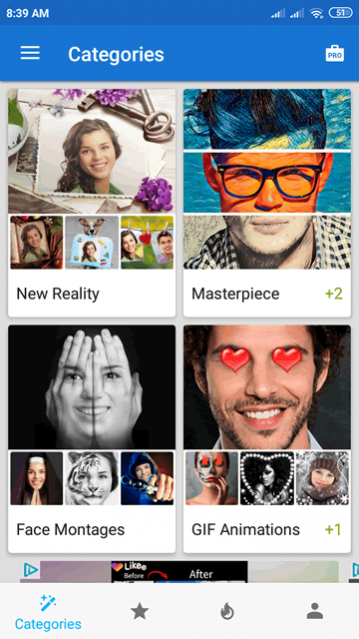 Photo Lab Picture Editor: Face Effects, Art Frames has an elegant user interface. It makes it easier for anyone to use this picture editor. The layout of this app has been designed very intuitively which ensures that you won't have any issues in navigating its different sections. On the home screen, you will find all the categories of the effects and filters that you have available to you. You can pick any category and click its title to view the different choices that it has to offer. Once you have selected a particular effect or filter, you need to select a photo from your phone's gallery to apply it on. The app is going to automatically detect photos with faces from the gallery to make it easier for you to test the chosen photo effect.
This picture editor doesn't just let you apply the effects and filters on the photos and selfies you have on your phone. You can search for photos of celebrities online and test the effects on their faces. After selecting a photo, you will be allowed to crop it before the effect is applied to it. It takes Photo Lab a little time to process the photo and apply the filter or photo effect you have chosen. On the result screen, you will get the chance to view the photo with the effect applied to it. You will get the chance to animate the photo or add an art frame or filter to it. There is also the option available to add text to it.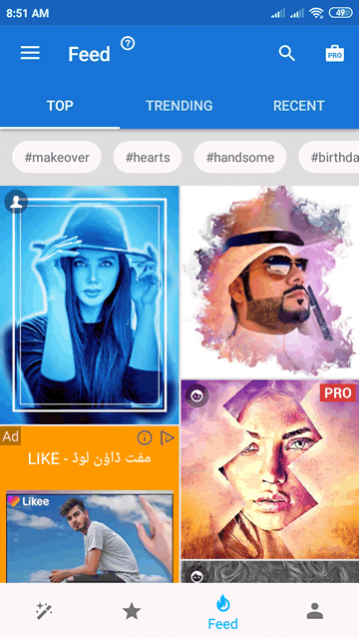 Photo Lab Picture Editor: Face Effects, Art Frames allows you to save your creations to your device. You can also share your creations with other photo artists. However, before you can do that, you need to sign-in to your Facebook, Instagram or Google account. After signing in, you can share your photos with others with just a single click. This picture editor also lets you take inspiration from the work of other photo artists in the community. You can view the photos that they have shared in the Feed section of the app. If you find any of their creations to your liking, you can add it to your 'Recommended' list by clicking the star icon located at the top bar of the screen.
Features:
Elegant user interface
Intuitive design and layout
Various categories of face effects to choose from
Apply different face montages to your selfies
Play around with a variety of photo filters and effects
Create customized combos by mixing different effects and filters
Automatic face detection for better application of effects
Animate selfies to turn them into a GIF
Get inspired by the creations shared by others
Inspire others by sharing your photo art
Conclusion:
Photo Lab Picture Editor: Face Effects, Art Frames is an app which is designed for people who love applying filters and effects to their selfies. It offers them the chance to be creative and mix different photos effects and filters to come up with a customized combo for stylizing your photos. It is an amazing picture editor and a must-have for photography enthusiasts and photo artists.
---
Add a review
Tell us your experience with
Photo Lab Picture Editor: face effects, art frames
100
RELATED PROGRAMS
Our Recommendations
---
---
---
---